This post may contain affiliate links for products I recommend. If you click a link and buy something I may receive some compensation. This does not change the price you would pay.
Baby bracelets for girls are gorgeous don't you think? They just add that extra special touch. They make a great gift; be it for a Baptism or Christening or just a birthday gift or even a Christmas gift. They are dainty and some can be engraved and personalized which makes for a great keep sake.
There are many kinds of baby bracelets for girls seriously you'll be amazed at what is out there. From charm to pearl bracelets; gold, silver, gold filled you name it, you can probably find it.
Personally I think that if you are looking for a baby bracelet for girls then I'd stay away from the charm bracelets. Although they are beautiful, they can be dangerous, posing a possible choking hazard.
I really like the bracelets that can be engraved with the baby's name on the front and from whom the gift was given by on the back. These personalized bracelets will one day be priceless for this little girl as I'm sure she will cherish it always. But whichever you decide to purchase please make sure you take note of the size of your baby's wrist and compare it with the seller's size.
For More Information and Best Deals Click Here
Here are a few to consider.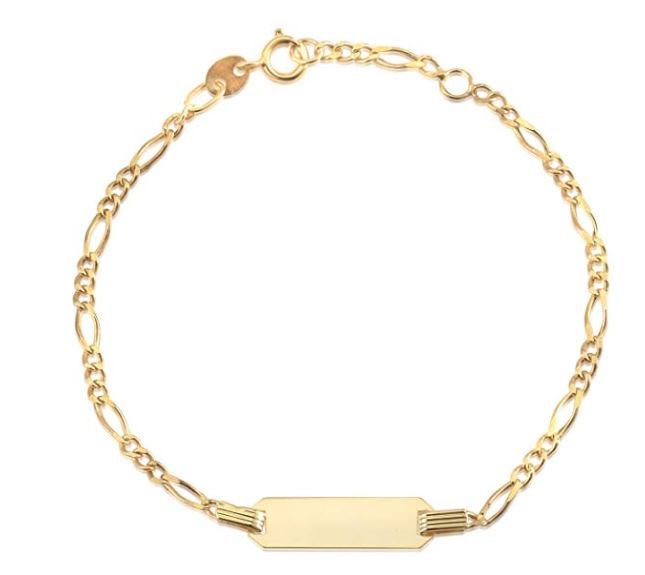 If you are looking for a real gold then I'd look into this 14 karat gold bracelet. It comes with a gorgeous heart charm that is placed on the Figaro linked bracelet. It can also be personalized with engraving. The design here is simple but elegant and most importantly comfortable for baby to wear.
This baby bracelet for infant girls has the option to personalize it. Just love the way it looks. Just gorgeous. You have a few options for the size, from infants to little girls of around 6 years old. Also comes with a heart charm. This makes for a great first year, baptism or Christening gift.
If you are looking for sterling silver then I would look at this beautiful bracelet. It can also be engraved and personalized. It fits a wrist size of 4 and a quarter inches so remember to check the size of your baby's wrist before ordering this or any bracelet. This baby girl bracelet is one that you will treasure.
Look what Kennith Auger wrote in his review " I was hesitant about ordering engraved jewelry online. I'm very pleased with this bracelet. Sent the e-mail as instructed at the end of the ordering process, received a timely reply. Ordered on Thursday evening and it was in my mailbox on Monday with a perfect engraving job and in a precious little gift box. The bracelet itself is beautiful and perfect for a baby girl. We had a relatively restricted budget for this gift, but wanted something that could be treasured. This fit the bill exactly. I would buy engraved jewelry from this seller again without hesitation. " For more reviews click here
For those who prefer the fresh water pearl look then you want to check out this beautiful pearl baby bracelet for girls. This option however cannot be engraved on. The pearls are fresh water pearls from China, similar to Akoya pearls yet at a fraction of the price.
Baby bracelets for girls make such a great gift. Choose wisely. Make sure there is nothing on the bracelet that an infant can choke on or cut themselves with. They make excellent gifts and I'm sure the parents will absolutely love the gift too!